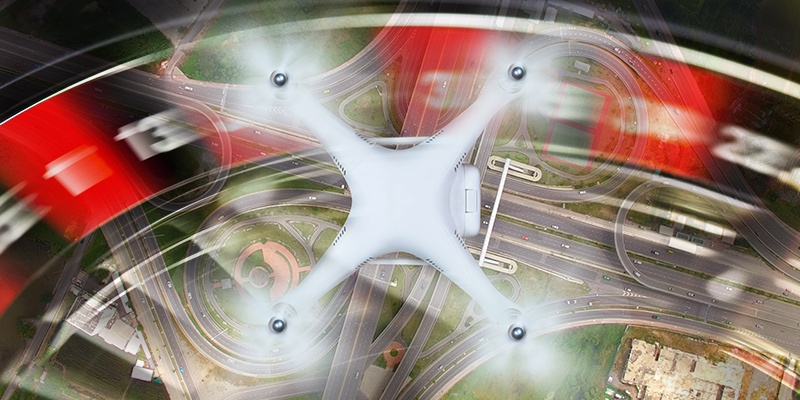 In April of 2016 we wrote about how flying drones and aircraft in the same airspace without a way to control and manage air traffic would eventually cause a catastrophic event since the odds of accidents or nefarious drone use would increase similar in a deadly game of Drone Roulette until disaster strikes.  The odds of catastrophe increased when 2.5 million drones were sold to consumers in 2016 with 1.2 million of them given as holiday gifts. Also in 2016, companies like Amazon, DHL and UPS announced patented ways to incorporate drone delivery into their business models. Meanwhile. 6,000 manned aircraft are in flight in at any given time in U.S. airspace.
What is still missing? A way to regulate manned and unmanned air traffic!
Goldman Sachs sees a tremendous upside, forecasting that the commercial drone industry will be worth $100 Billion by the year 2020. However, it also mentions that the industry won't reach its potential unless FAA regulations like the 400-foot altitude limit and the beyond visual line of sight restrictions currently in place are relaxed or removed.
As this post is being written, forest fires rage in California and other western states including Arizona, where a drone operator was arrested for recklessly endangering fourteen air and ground fire crews by flying a drone over the fires to take pictures.  This year, manufacturers will produce nearly three million recreational drones in the U.S., with sales expected to exceed $6 Billion. Without a system in place to manage authorized drone flight, rogue drones will become a threat to air safety.
The commercial drone industry will reach its potential only when there's a way to manage and regulate drones in the airspace so that they don't crash into each other, crash into aircraft, fly into people or property or fly with weapons.
Finally, the need to manage and reduce the odds of disaster in Drone Roulette have been acknowledged by the FAA and the drone industry. In an effort to catch up to the demand by recreational drone operators and to enable commercial drone use, The FAA had its first Drone ID Aviation Rulemaking Committee (ARC) meeting on June 30, 2017 to start defining how to manage drone traffic.  Being able to identify and authorize drones and their operators has finally been recognized as an imperative need for air safety of manned and unmanned aircraft.
Wouldn't it be great if there were already a complete drone traffic management system?
CSA's Drone Aviation Response System™ for aircraft will ensure flight safety for manned and unmanned aircraft and drones. It handshakes with our Smart City Drone Response System™ and our Drone DMV™ Registry System to create Clear Space Zones for cities, towns and municipalities, giving law enforcement and first responders control over their airspaces. Working together, our hardware, software and network-agnostic products create a safe, secure environment for all aircraft to fly safely together and for law enforcement to be able to regulate and remove rogue drones from any airspace.
About the Authors
Peter and Shana Whitmarsh are co-founders of ClearSpace Aero and co-inventors CSA's patent-pending Clear Space Solutions: Direct Aviated Response System™ and Smart City Drone Response System™, Drone DMV™, and Drone CyberSecurity. They are also principals of Whitmarsh Research Group which incubated the technologies for CSA.