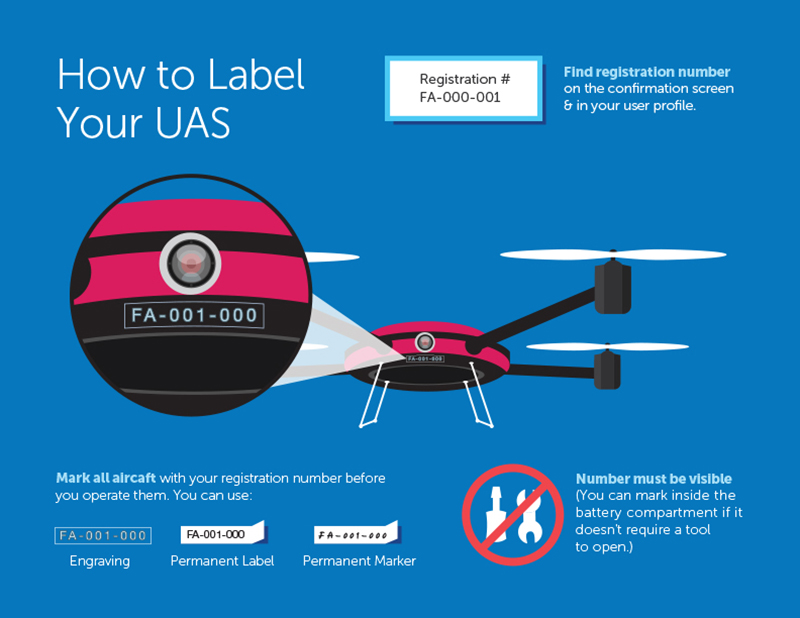 Instructions for how to affix your FAA recreational drone registration sticker for the drone registration you may not need anymore. Hint: check your local laws!
Credit: FAA.gov
When we originally wrote about this topic two years ago, the news that thousands of drone operators would have to register their drones with the FAA shook the industry and many drone operators were livid with the thought of having to register at all, let alone compromise their privacy. Drone operators from as young as thirteen years old would have to register their drones for free, initially, and then for $5.00 per year. The registration would enable them to fly legally, or be tagged with large fines and even jail time. The penalties were stiff: $27,500 civil penalty, a criminal fine of $250,000 and/or 3 years in prison. Many drone operators were upset that the database of registrants made their names and home addresses publicly available online, something parents were especially concerned about when it came to children's safety. WIRED wrote that the then-new rule of …."[h]aving to register any drone weighing from .55 pounds to less than 55 pounds was "insane" given that you don't have to do the same for a gun." Apparently one had yet informed WIRED that drones can be used as weapons of mass destruction.
Meanwhile, last May, the U.S. Court of Appeals in Washington, D.C. ruled that the FAA's recreational drone registration rule for drones under 55 pounds is unlawful.
At the time of this post, the FAA still has a website with registration information for flying sUAS (drones) under Part 107 and flying model aircraft under Section 336, so it's understandable that people are confused as to whether they need to register their drones. There's also another FAA website specifically for recreational or commercial drone registration, still live after the appellate court ruling.
Paper's been flying in several lawsuits about whether the registration is legal, whether drones are model aircraft and therefore exempt from registration with the FAA, refunding registration fees plus restitution after registration was found not to be legal, and registration fees not being refunded, just to name a few.
Here's the bottom line: often with new technologies, the gadgets appear and then laws governing their use follow. Watch this space and check the registration requirements specifically for where YOU want to fly to make sure you are following all of the local rules while the federal government sorts things out.
About the Authors
Peter and Shana Whitmarsh are co-founders of ClearSpace Aero and co-inventors CSA's patent-pending Clear Space Solutions: Direct Aviated Response System™ and Smart City Drone Response System™, Drone DMV™, and Drone CyberSecurity. They are also principals of Whitmarsh Research Group which incubated the technologies for CSA.